Full Description
---

Dr.Terrace is the division of Cipla technologies&innovation (P) limited which is the pioneer in civil services (since 2002) by using German technology with own invented materials.
Dr.Terrace Civil services is one of our division was found by three EX- L&T company senior engineers and one experienced marketing company's CEO and Its Trade mark registered ISO 9001-2008 certified company.
We are the Distributor for worldwide leading company like FOSROC, Dr.fixit, and SIKA and tied up with Malaysian company like Green seal and implementing the latest technology in civil industry in and around south India.
We do all kind of civil services and building maintenance work like waterproofing treatment for Terrace, Bath room, water tank, sump, wall crack, Damaged Concrete and Heat reduction treatment like "Terrace cool coating" etc…
We also tied up with many Engineers and Architectures and do waterproofing treatment for newly constructed and under constructing Hotels, Apartment's, Water Tank, and Bath rooms. So far more than 300 sites treated in across south India that including Bangalore HAL. (Airport)
We know we judge by our client hence our methodology will be highly result oriented, The unique features in our company is only company who has own employee as a labor & own service team, Our warranty will be in 10 rupees bond sheet for 1lakh and above project, if it is more than 5 lakhs project than it will be in 20 Rupees bond sheet all are genuine warranty.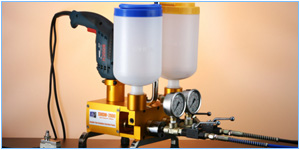 Our Supervisor has done minimum of DIPLOMA IN CIVIL and never allowed un- educated people to co-ordinate with client.
Dr.Terrace Civil services (P) Limited is the expert in treating your bath room leakages, as this picture after treating your bath room there won't be any ugly look in your bath room just look like newly layed tiles that joints also will become normal dull color in 3 days .

Advantage:
With out breaking the tiles will test and find the leakages.
Will treat with German technology.
7 years warranty for treated bath room.
Blue-Lamp treatment also available for remove existing water.( For special cases)
Having separate own employee team to treat your bath room.
Identified company uniform weared technician would treat hence needless to worry about safety.
Water proofed , soap water proofed.
Acid proofed.
Alkaline, Phenol proof,
Only civil company which is having own service team to attend complaint.
Using Multi-sealants which is U.K based well known international brand.
Civil Service the Division of Cipla Technologies & Innovation Pvt. Ltd.
No.8A, 3rd Floor, K.H Road,
Nungambakkam,Chennai-34
-9841 096 096
Land line – 044-430908
---
---