Full Description
---
Ours is an almost half a century old trading house, in the business of providing fastening solutions to various industries in the South Indian region.
We have been supplying all kinds of fasteners, hand tools and other General Hardware products to the various divisions and departments of the Indian Railways and also to many companies in the Power Generation, Automobile, Manufacturing and Service Industry.
Our network of over 300 dealers in Tamilnadu has ensured that our products reach all parts of this region.
Some of the Brands supplied are depicted in the collage below.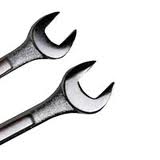 Hand Tools of all kinds including Spanners, Wrenches, Pliers, Drill bits, Screw Augers, Cutting and Grinding Wheels, Screw drivers, Saws, Chisels, Allen Keys, Socket bits and attachments. Eastman, Pye and Jolly are among the popular brands stocked by us.
As our logo suggests, we have been in this trade since 1965. The founder partners have been associated with the hardware business since 1948.
We are on the approved vendor list of many railway organizations for supply of various kinds of fasteners, Hand Tools and General Hardware. Integral Coach Factory, Chennai, Southern Railway, Chennai, BEML Bangalore, BHEL Jhansi, South Central Railway, Secunderabad, South Western Railway, Hubli, South Eastern Railway and South East Central Railway are few of them.
Our customers in the construction/installation sectors include names like L&T ECC and ECIL Kudankulam.
Our reach has extended to every corner of this region through our dealer network spread all over Tamilnadu.
Address: 61 (Old No. 28/2), Jones Street,
Chennai – 600 001, Tamilnadu, INDIA.
---
---